This is a Sponsored post written by me on behalf of Leviton for SocialSpark. All opinions are 100% mine.
Although we do not yet know where David will find a job following his graduation (in less than two weeks!), we do know that we will be moving out of our current apartment into something a little larger.  I didn't do much in the way of decorating when we moved in last summer since we knew we would might only be here a year, but I am determined to make our next home more cozy and welcoming regardless of how long we'll be there.  Since David is looking at post-doc positions, we'll only be able to temporarily settle down again so we will continue renting.  This is a little disappointing because there are some limitations about what you can do regarding décor in a rented home.  Painting is often out of the question, and even if it's not, it's a huge undertaking to paint an entire apartment, only to paint again a year later when you move out.  I know I'm not the only renter that has had that problem.
I recently became aware of the Leviton Renu collection of switches, dimmers, and wall plates, which I think solve the problems of personalizing for renters.  These switches and wall plates come in 20 colors…and can be switched out whenever you want by simply popping the current one off and clicking in the new one!  Your wall plates can match the rest of the décor in your room and can be changed much quicker than you can repaint a room!  For renters, this is a great option, because it allows for personalization and a pop of color, is simple to install and uninstall, and can be taken with them when they move.  It's also perfect for the woman who likes to accessorize her home like she accessorizes herself; changing color schemes becomes as easy as changing earrings.
This is a picture of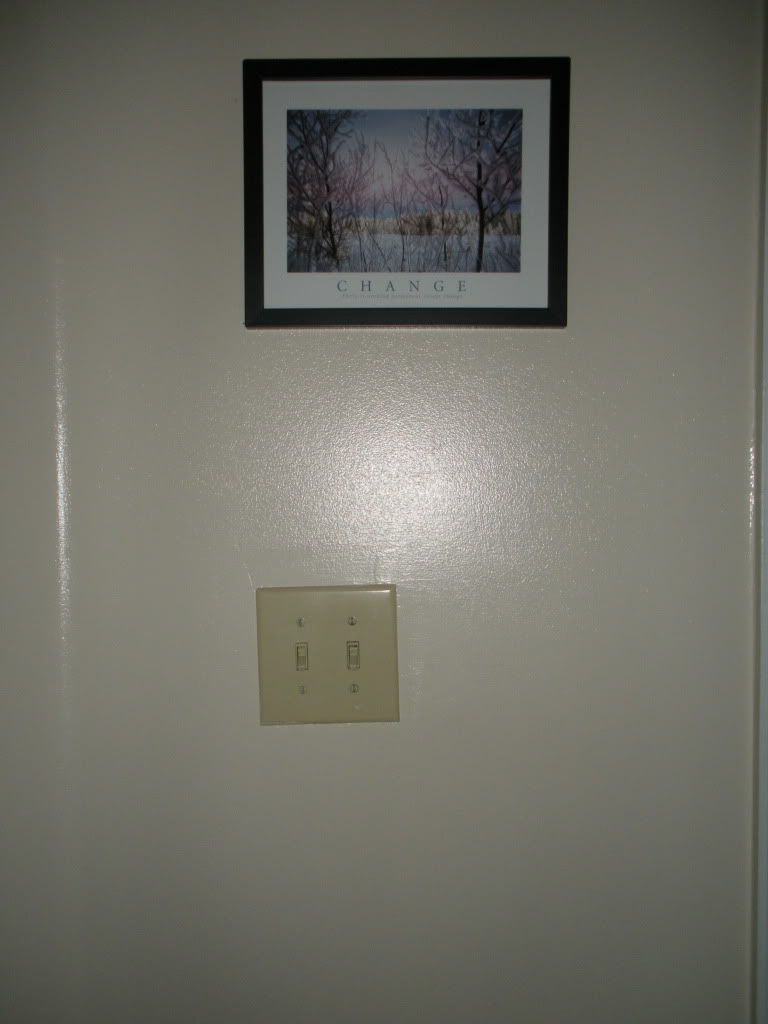 one of my bathroom walls.  Isn't it terrible?  I'm sure you didn't even need to look very closely in order to notice that the light switch plate is crooked.  Yes, it's the switch plate that's crooked, not the picture, but because of it, it makes the picture look crooked.  Ugh.  See how much a simple wall plate affects the look of a room?  I would love to replace this with a wall plate that matches the blue towels and bathroom accessories we received as wedding presents…and then change it again on a whim to compliment the neutral tones of our newer towels and rugs. 
To get involved in the conversation about Renu, join the three upcoming twitter parties (and get the chance to win Home Depot gift cards) on Wednesday, April 18th, Thursday, April 26th and Wednesday, May 2nd at 9pm EST.  In order to participate, follow @Leviton and #Renu.  You can also connect to Leviton on Facebook.